by Thomas Cooley, Austin Jones, and Peter Rupert
The flash estimates of third quarter output in Europe released by Eurostat the EU Statistical Agency last week showed EU  Area GDP grew by .2% in the Euro Zone and .3% in the EU 28.  The Italian economy shrank by .1% and Germany grew by only .1%.  The one sign of strength was the U.K. economy which grew at a relatively robust .7%.
We should note that the graphs that follow are based on the most recent data available but do not include all third quarter data because Eurostat is notoriously inept at making timely data publicly available.
The chart below shows GDP growth for the major economies compared to GDP growth for the U.S.
But, the European picture is very much a tale of two Europes, with Southern Europe showing tremendous weakness and the Northern European Economies and the U.K. showing morobust signs of recovery. This becomes apparent when we look at consumption, capital formation and the labor market.
Only Germany and France show consumption above its prior peak and for many of the periphery countries it remains at least 5-10 % below its prior peak.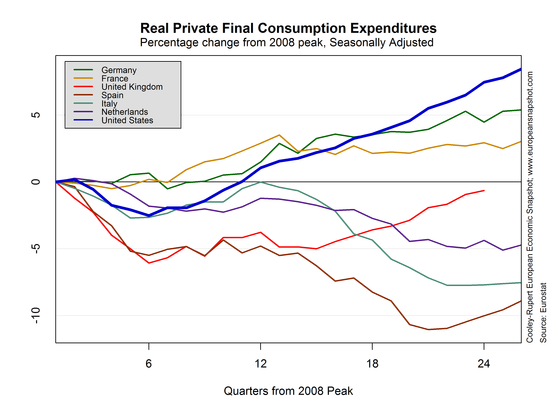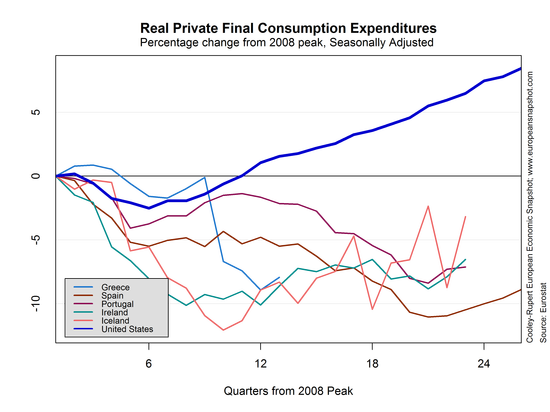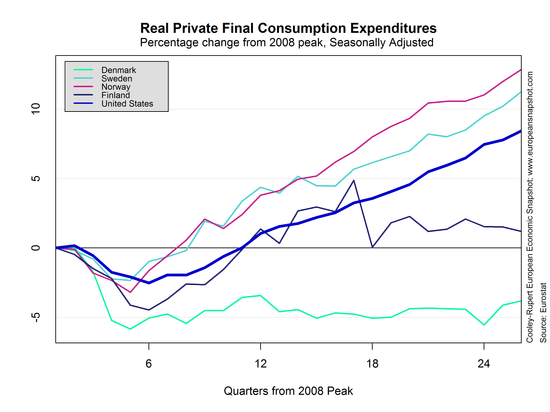 Capital formation ( Fixed Investment) seems to be in decline everywhere except in the UK.  The periphery countries continue to be flat well below pre-crisis levels and even the Scandinavian Countries have turned south.
The employment to population ratio is an interesting indicator of the impact of the Great Recession and recovery.  With the exception of Spain, the larger European economies declined but not as severely as  the U.S..  Germany, a country that undertook significant structural reforms of its labor markets, actually improved in the aftermath of the Great Recession. But again, this is a tale of two Europes. The employment/population ratio in some of the periphery countries declined by 10% or more but some have begun to recover a bit. Unemployment rates particularly among young workers remains almost unimaginably high and is causing lasting damage to these economies.
Given the dire state of the European Economy where is the policy response? Unfortunately the fragmented nature of the Union means there is no coordinated fiscal stimulus.  Mario  Draghi has promised a program of monetary stimulus in the form of asset purchases but unlike in the U.S. there is no risk-free government asset that is suitable for a program of quantitative easing.  Our friends at www.moneyandbanking.com show the following picture that underscores how different the ECB's policy has been from the Fed's.
It is time to do more.